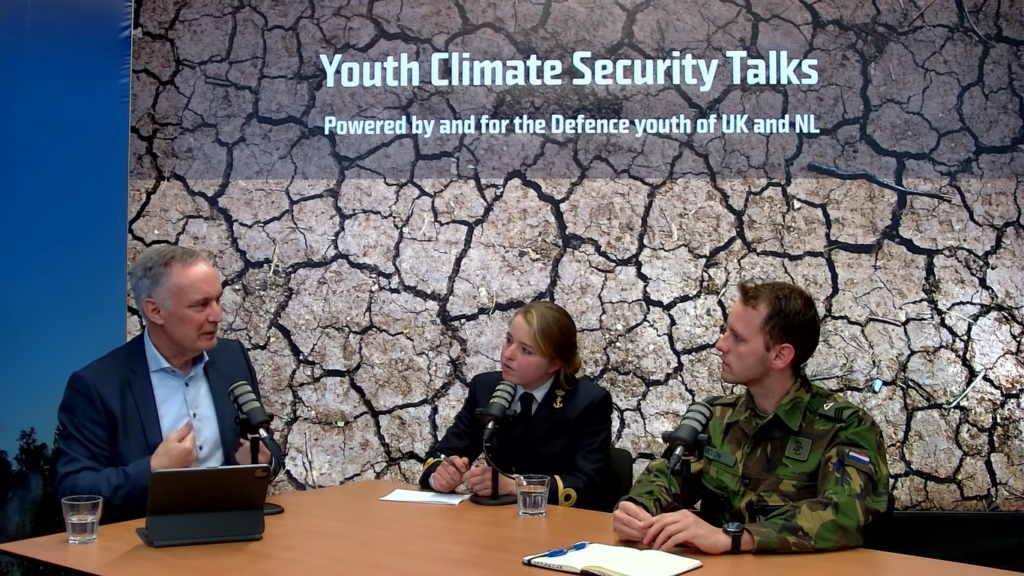 The Youth Climate Security Talks 2022 took place in November 2022, parallel to the UN COP27. This international 3-day masterclass on climate security evolved around three words:
EDUCATE, INNOVATE, and IMPLEMENT.
Watch the closing session via: https://youtu.be/K16exx3U0c8
What we did
Educate: session 1
In a livestream over 100 participants from 13 different countries were educated on the relationship between climate change and security.
Speakers: Lieutenant-General (ret) Richard Nugee (UK), Vice-Admiral (ret) Ben Bekkering (NL), Mr. Albert Chan (CA) & Mr. Bart Zwiep (NL).
Innovate: session 2
During an interactive discussion on Microsoft Teams, enthusiastic participants from the first session discussed in an international setting their ideas to climate proof military organizations.
Implement: session 3
In the closing session, the participants from the previous session joined a livestream to discuss how to implement ideas to climate proof military organizations. During this session participants presented their ideas and obtained feedback from senior (military) leaders.
Speakers: Mr. Richard Brewin (NATO) & General (ret) Tom Middendorp (NL).
Watch via: https://youtu.be/K16exx3U0c8
What is next?
The Youth Climate Security Talks organization team seeks to realize the ideas presented during this masterclass. Therefore, two international working groups are created who will work throughout 2023 on two of the ideas presented by military youth:
–> An international training serial on climate disasters.
–> An international documentary on climate security.
Working group 1: International training serial on climate disasters
We believe that Officer-Cadets around the world should be trained to respond to climate disaster scenarios, as these are likely to occur more often in the future. A blueprint of such a training serial can be distributed amongst different national military academy. This training serial could be in conjunction with local firefighters and other first responders, allowing the understanding of how the military collaborates with other organizations in emergencies.
Working group 2: International documentary on climate security
We believe that raising awareness on the security aspect of climate change is important, and possible through an international documentary. The aim is to start a momentum where society as a whole becomes more aware of the topic of climate security. The documentary needs to show how research institutes, the industry, and the armed forces look (differently) at the topic climate-security; brought together by international military youth in a short film.
Join the effort

Are you interested in joining one of the above working groups, please contact us via:
LinkedIn: @YouthClimateSecurityTalks
Email: talks@youthclimatesecurity.com.